Resident Ensembles
LES METABOLES
Created in 2010 by Léo Warynski, Les Métaboles brings together young professional singers specializing in the repertoire for a cappella choirs of the 20th and 21st centuries.
A versatile ensemble, Les Métaboles have originated many commissions and creations since their beginnings. Baroque music is also part of their repertoire and they excel in Haendel's Dixit Dominus or Bach's Motets.
Les Métaboles are regularly invited to take part in prestigious festivals in France and in Europe (festival Musica in Strasbourg, festival de Musique ancienne in Ribeauvillé, Musicales de Normandie in Rouen, Saison Musicale de Royaumont, In Sacris in Sofia).
Les Métaboles boast original productions, such as olfactory concerts, combining music with the work of the perfumer Quentin Bisch. Furthermore, the choir has already collaborated with the orchestra Les Siècles under the direction of François-Xavier Roth, the Philharmonia Orchestra of London, the Orchestre Philharmonique de Strasbourg and the Orchestre Philharmonique de Radio France.
The first record by the ensemble, "Mysterious Nativity", released in 2014 under the Brilliant label, was unanimously acclaimed by critics. The second record "Une Nuit Américaine" released in November 2016, under the NoMad Music label, received equally unanimous recognition and established Les Métaboles among the best French choirs.
Thanks to the support of Mécénat Musical Société Générale since 2013, in just a few years, Les Métaboles have truly established themselves on the French musical scene.
The ensemble Les Métaboles receives support from the Fondation Orange, the Sacem and the Spedidam for all its activities.
Great patrons of the ensemble: Mécénat Musical Société Générale and the Caisse des Dépôts.
In 2018, Les Métaboles were awarded the Prix Liliane Bettancourt for choral singing, bestowed in partnership with the Académie des beaux-arts.
The ensemble is a member of the Fédération des Ensembles Vocaux et Instrumentaux Spécialisés (FEVIS).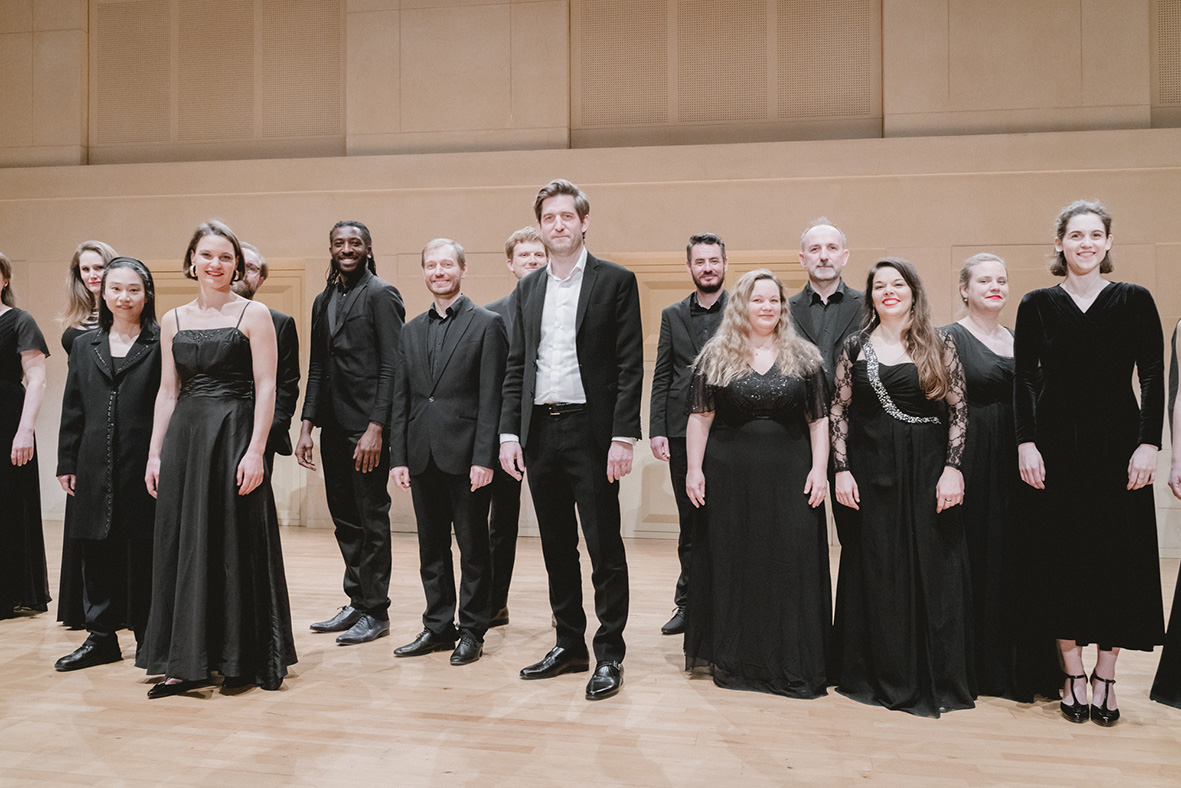 ---
ENSEMBLE MULTILATÉRALE
After 15 years of existence, Multilatérale now fully embraces its multi-faceted identity, cherished dearly by artistic director, Yann Robin.
Dedicated to broadcasting the repertoire for Ensemble and defending a broad variety of aesthetics, Multi- laterale also places emphasis on collaborating with a wide range of artistic elds (musical theatre, dance, digital arts, literature, cinema…). The appointment of Léo Warynski as musical director in 2013 has given the Ensemble a chance to explore a new direction, allowing regular collaborations with Vocal Ensemble Les Métaboles of which Léo Warynski is the musical director as well.
This artistic openness, doubled with a team of curious and committed world-class musicians, provides an ideal space of expression and experimentation for creators eager to curate innovative projects. It's un- surprising that, throughout the years, the ensemble has developed strong relations with equally bold partners such as Ircam, Le Fresnoy – Studio National des Arts Contemporains, Gmem – French national centre for musical creation – Marseille, La Muse en circuit or the ExperimentalStudio SWR Freibourg. Multilatérale has progressively established itself as one of the leading names in French musical creation, playing at major festivals such as Manifeste, Présences, Musica, Les Musiques and major stages such as the Opéra de Nîmes, the Opéra de Nancy, the Théâtre de Caen, the T2G, the scène nationale de Saint- Quentin-en-Yvelines.
Multilatérale has developed a strong international presence – appearing in festivals such as Cervantino (Mexico), Controtempo (Rome), La Biennale di Venezia, Archipel (Geneva), X-Tract (Berlin), Sinkro (Spain), Sound Ways (Russia) – and a special bond with South East Asia while touring Thailand, Singapore and Indonesia three years in a row in 2016, 2017 and 2018.
The Ensemble has also a strong focus on transmission and working with the next generation of composers. Multilatérale has collaborated with numerous composition classes and academies.
After initiating and managing the Université d'Altitude for 3 years, Multilaterale has this year created a new, bi-national, composition university: ARCO (Art, Research and Creation Opus 2019), in partnership with Les Métaboles, Tana string quartet, Gmem-Marseille and Mozarteum Universität – Salzbourg.
The Ensemble Multilatérale receives subventions from the French Ministry of Culture and Communication / Drac Ile-de-France in the form of aid to government-regulated ensembles; Spedidam and SACEM for its overall activity. The Ensemble is a member of FEVIS and the "Futurs composés" network.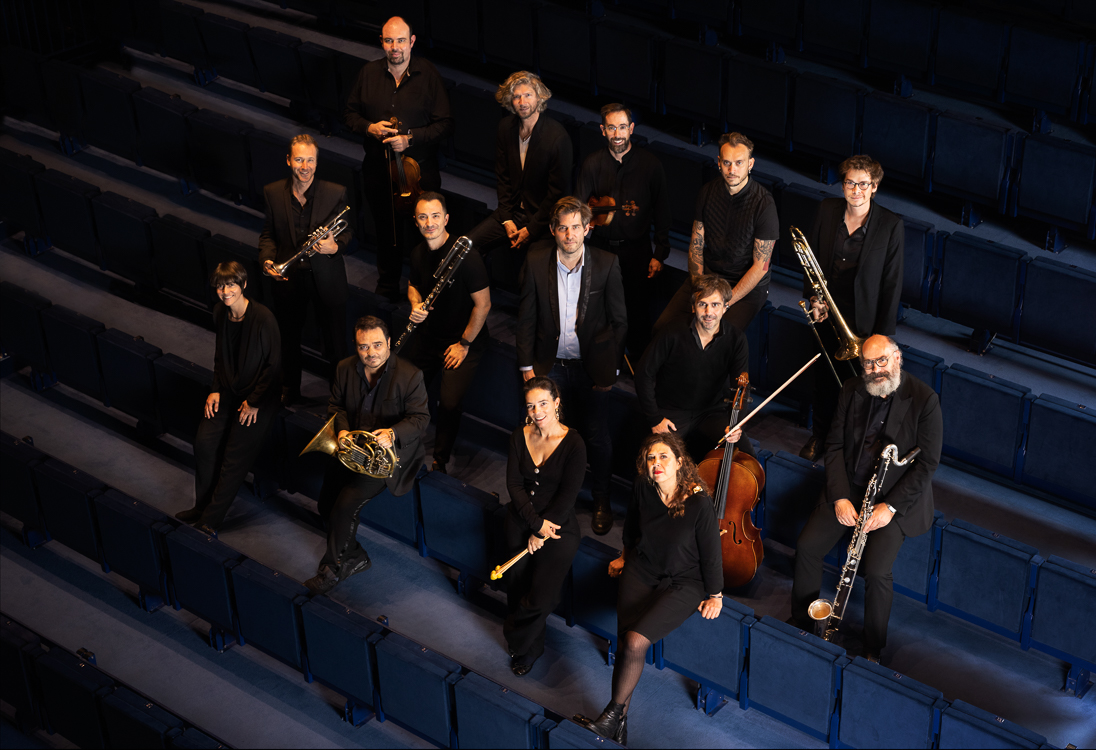 ---
THE TANA STRING QUARTET
Hailed as "impeccable players" (The Guardian), the Tana Quartet approaches music of different eras and aesthetics with equal intensity, creating a new tradition that links past and future. Tana has appeared at prestigious festivals and concert series worldwide, including Philharmonie de Paris, Barcelona's Palau de la Musica, Vienna's Konzerthaus, Villa Medicis in Rome, Darmstadt, and Wigmore Hall. The quartet has been honored with numerous awards such as the Union of Belgian Composers' Fuga Prize, an Octaves de la Musique for contemporary music, the Coup de Coeur of the Charles Clos Academy, and an HSBC Award at the Festival d'Aix-en-Provence.
Since its founding in 2010, Tana has been committed to promoting contemporary music in all its diversity and seeking out collaboration with composers. The quartet has consistently acted as a champion of new works, having premiered over 250 pieces by leading composers such as Ivan Fedele, Philippe Hurel, and Hèctor Parra; they have been crucial advocates for the saturist movement, working closely with Franck Bedrossian, Raphaël Cendo, and Yann Robin, whose works are featured on their album Shadows. The quartet has released thirteen albums, including Seven, which comprises Philip Glass's complete works for string quartet and was recognized by Classica magazine as a "best album of 2018"; and most recently, Bleu Ébène, featuring the complete string quartets of David Achenberg.
Tana's devotion to collaboration extends to research, including partnerships with IRCAM Paris, Grame Lyon, GMEM Marseille, ArtZoyd, and Centre Henri Pousseur. The quartet co-designed hybrid electroacoustic instruments in collaboration with composer Juan Gonzalo Arroyo, a groundbreaking contribution to electronic music. Their album Volts, featuring new works for these instruments, was acclaimed as marking "a landmark in the history of the quartet genre" (classiquenews.com).
Dedicated to education, the Tana Quartet is regularly invited to give masterclasses at institutions such as the Conservatoire National Supérieur de Paris, University of California Berkeley, and Shanghai Conservatory. In 2018 they co-founded ARCO, an annual contemporary music academy for young composers and performers, in partnership with the Salzburg Mozarteum, GMEM, Ensemble Multilatérale and Les Métaboles.
Tana believes in extending and equalizing the reach of the arts. The quartet has designed two outreach programs to deliver engaging musical experiences to new audiences: Music Far and Wide brings the quartet into atypical venues, from supermarkets to hospitals; and One-Day Orchestra gives participants of all ages the opportunity to immerse themselves in the creative process.
The Tana Quartet is composed of founding violinist Antoine Maisonhaute, violinist Ivan Lebrun, violist Julie Michael, and cellist Jeanne Maisonhaute.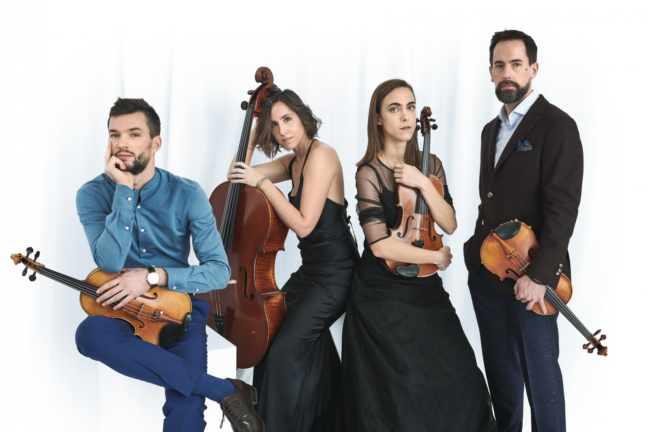 ---
LÉO WARYNSKI, MUSICAL DIRECTOR

"Precise, sensitive and audacious", are words used to describe Léo Warynski's as a conductor. Both open- minded and versatile, he directs all repertoires with the same enthusiasm, with a particular taste for opera, symphonic and contemporary repertoires. Léo Warynski trained in conducting by François-Xavier Roth (CNSMDP of Paris). He was soon invited to work with different ensembles such as the Orchestre des Lauréats du CNSMDP, the Modern and Remix ensembles, the orchestra of the WDR of Cologne.
In 2016, he brilliantly conducted the opera Mirida by Ahmed Essyad at the Opéra national du Rhin, made his debut conducting the Ensemble intercontemporain, and the following year led the Orchestre de l'Opéra de Rouen and the National symphonic Orchestra of Colombia. During the 2018 season, he is conducting, among other things, the Orchestre de Normandie, the Or- chestre de l'Opéra de Rouen, the creation of the opera Papillon Noir by Yann Robin at La Criée de Mar- seille and of the opera Seven Stones by Ondrej Adamek at the festival d'Aix-en-Provence, and the French premiere of 200 Motels by Franck Zappa with the Orchestre Philharmonique de Strasbourg at the festival Musica and at the Philharmonie de Paris.
Léo Warynski is the artistic director of the vocal ensemble Les Métaboles that he created in 2010. Furthermore, in 2014, he was appointed music director of the ensemble Multilatérale, an instrumental ensemble dedicated to creation.
Photo : Gwendal le Flem