Tutors
FRANCESCO FILIDEI
Francesco Filidei was born in Pisa. He graduated from the Luigi Cherubini Conservatory in Florence, and from the Conservatoire National Supérieur de Musique et de Danse de Paris. As an organist and composer, he has been invited to participate in major contemporary music festivals internationally. He has been played with a number of world-class orchestras, including WDR, SWR, RSO Wien, ORT, RAI, the Tokyo Philharmonic, Bayerischen Rundfunk, LaVerdi, the Philharmonic Orchestras of Monte Carlo, Nice, Picardie, Helsinki, Vilnius and Warsaw, the Orchestre Symphonique de Bretagne and the OPL, the Orchestre of Mexique; and with most of the world's the leading specialized ensembles at venues such as the Philharmonie in Berlin, Köln, Essen, Hamburg, Cité de la Musique in Paris, Suntory Hall and the Tokyo Opera House, Theaterhaus in Vienna, Herkulessaal in Munich, Tonhalle in Zurich, Walt Disney Concert Hall in Los Angeles.
In 2005 Filidei received a commission from Comité de Lecture Ircam. He has received awards including the 2006 Salzburg Music Förderpreisträger, the 2007 Prix Takefu, the 2009 Siemens Förderpreisträger, the 2011 International Rostrum of Composers UNESCO Picasso-Miro Medal, the 2015 Abbiati Award, the 2016 Les Grands Prix Internationaux du Disque from the Académie Charles Cros for his album Forse, the Simone and Cino Del Duca Foundation's 2018 Commande awarded by the Académie des Beaux-Arts.
In 2005 Filidei received a grant from the Akademie Schloss Solitude; in 2006 and 2007 he was a member of the Casa de Velàzquez; in 2012 he was a Pensionnaire at Villa Medici; he received a grant from the DAAD in Berlin. Filidei has also been composer-in-residence for numerous ensembles and music festivals.
Filidei is also active in teaching and has taught composition at the Royaumont Foundation's Voix Nouvelles program, the University of Iowa, Takefu (Tokyo), the International Academy in Tchaikovsky City (Russia), Darmstädter Ferienkurse (Germany), and at numerous institutions and universities throughout the world (Ircam, Cnsmdp, Esmuc, Musikene, The conservatory of Strasbourg and Moskow, the university of Berlin, Hannover, Stuttgart, Graz, San Diego, Tokyo amongst many others). In 2019 he will give masterclasses with portrait concerts in Shanghai, Beijing and Hong Kong.
In 2016 he was named Chevalier des Arts et des Lettres by the French Ministry of Culture.
Filidei joined the I Teatri Foundation of Reggio Emilia (Italy) as music consultant in 2018 and the Villa Medici in Rome as Artistic Director of the Controtempo festival of contemporary music.
Filidei's first opera, Giordano Bruno, made its world premiere in 2015 in Porto (Portugal), and has been performed in theaters throughout Europe since then.
His latest opera, L'inondation, with book by Joel Pommerat, was composed for the 2019 season at Opéra Comique in Paris.
---
HENRY FOURÈS
Henry Fourès studied art history at the University of Montpellier and music at the Conservatoire National de Musique in Paris where he won first prizes for writing, analysis and composition. He continued his training at the academy in Vienna and piano at the University of Berlin in medieval musicology. From 1975 to 1977 he was an intern at the Groupe de Recherches Musicales (INA-GRM).
Professor in charge of improvised music at the Conservatory of Pantin from 1977 to 1980, then taught medieval musicology from 1980 to 1982 at the University of Toulouse-Le Mirail.
From 1991 to 1993 he was artistic director of the studio La Muse en Circuit. He worked regularly in Germany (Postdam, Berlin, Cologne, Frankfurt) where he was invited to various ensembles and symphony radios. From 1996 to 2008 he was chairman of the music lab and computer Marseille.
The eclecticism of its output as a composer and performer led him to collaborate with the creators of aesthetic and very different backgrounds (musicians, actors, choregraphers, visual artists, filmmakers). He is active in many areas, making films for television and composing music for picture, dance and stage. It is also the author of numerous creations radio (France Culture) and Hörspiel for HR and WDR. He wrote symphonic works, chamber music, electronic parts, mixed vocal works. It also designs and produces interactive installations and major events.
From 2000 to 2009, Henry Fourès is director of the National Superior Conservatory of Music and Dance Lyon. Today, recovering his full activity as a composer and performer, he also runs as guest artist in residence and composer in many contemporary festivals, creation and research Centers like GMEM Marseille, IRCAM and European universities.
Henry Fourès an officer of Arts and Letters, Knight of the Order of Merit and holder of the German Cross of Merit (Verdienst Kreuz).
His music is published by Edition Symétrie, Lyon and Peer Music Verlag, Hamburg.
---
SARAH NEMTSOV
Sarah Nemtsov was born in 1980 in Oldenburg and studied composition in Hanover and Berlin with Nigel Osborne, Johannes Schöllhorn and Walter Zimmermann, as well as oboe with Klaus Becker and Burkhard Glaetzner. She has received numerous awards and scholarships, including the Busoni Composition Prize of the Berlin Academy of the Arts, the Deutsche Musikautorenpreis of the GEMA and won the international RicordiLAB composition competition. She collaborates with renowned ensembles and orchestras (HR Symphony Orchestra, Deutsches Sinfonieorchester, RSO Vienna, WDR Orchestra, Ensemble Musikfabrik, Klangforum Wien, ensemble modern, ensemble mosaik, Ensemble Adapter, Nikel ensemble, Decoder ensemble, Neue Vocalsolisten Stuttgart, ensemble recherche, Basel Sinfonietta, Finnish Baroque orchestra etc.) and her works are performed at internationally renowned festivals - such as the Donaueschinger Musiktage, Darmstadt Summer Course, Wien modern, ECLAT, Ultraschall, Holland Festival, Musica, Bregenz Festival, Munich Biennale, Ruhrtriennale and many more. Nemtsov's music captivates through sensitively sounded setups, through complex and energetic textures, musical stratifications, interactions between acoustic instruments and electronics, as well as collaboration with and references to other arts and other media. In 2014, Sarah Nemtsov taught composition at Hochschule für Musik und Tanz Cologne, in 2018 she taught composition at Haifa University as a DAAD guest lecturer. In 2021 she was tutor for composition at Darmstadt Summer Course. In 2020, she was nominated for the Opus Klassik Prize in the category "Composer of the Year". 2021 she was elected as a member of the Akademie der Künste (The Academy of Arts) Berlin as well as the Saxon Academy of the Arts. Since 2022, she is professor for composition at the University Mozarteum Salzburg, Austria. Her catalogue includes more than 150 compositions in almost all genres. Since 2016 her works are published by Ricordi. DIE ZEIT wrote about her opera SACRIFICE (premiered 2017 at the Opera House Halle): "Sound becomes space becomes time becomes reality". Her highly acclaimed opera "SACRIFICE" (2016) – premiered in March 2017 at Opera Halle – was described by Die ZEIT as a work in which "sound becomes space becomes time becomes reality." In 2022, at festival Ruhrtriennale, her cycle "HAUS" was staged at the turbine hall Bochum - "an unleashed ectasy of sound that opens up spaces of association" (nmz). Her newest opera – "OPHELIA" (2020-2021) with a libretto by Mirko Bonné – will be premiered in 2023 at Saarländisches Staatstheater. Currently Sarah Nemtsov works on her tetralogy "TZIMTZUM" for four soloists and orchestra, as well as on another opera: "WE" (after E. Zamyatin) for opera Dortmund, premiere in 2024.
---
EVA REITER
Eva Reiter, born in Vienna, studied recorder and viola da gamba at the University of Music and Performing Arts in Vienna and continued both studies at the Sweelinck Conservatory in Amsterdam. In 2006 she completed both master's degrees "cum laude" with a focus on contemporary composition. Eva Reiter works as a musician, composer, performer, lecturer and artistic curator. She teaches at academies for early music and for composition (ARCO - Art Research and Creation, Marseille; Voix Nouvelles Academy, Royaumont, Bludenzer Tage zeitgemäßer Musik a. o.). 
Since 2020 she has been teaching composition at the Musik und Kunst Privatuniversität der Stadt Wien. In 2021, she was awarded a grant from the City of Vienna for the artistic research project Transforming Instrumental Gestures. For the year 2024 she was invited as guest curator for the Klangspuren Festival. Eva Reiter performs as a soloist and with various orchestras and ensembles for early and contemporary music (including Ictus, Klangforum Wien). Since 2015 she has been a member of the Belgian ensemble Ictus, whose artistic planning she helps to oversee. 
Her work as a composer has received several awards. She has performed her compositions at international festivals such as Transit, Ars Musica, ISCM World New Music Festival, generator, Wien Modern, Klangspuren, Aspekte Salzburg, Sommer in Stuttgart, MaerzMusik, musikprotokoll im steirischen herbst, Darmstädter Ferienkurse, Donaueschinger Musiktage, Festival Archipel, Huddersfield Contemporary Music Festival, Musica Strasbourg, Kunstenfestivaldasarts, Wiener Festwochen and others. In the 2019/20 season Eva Reiter was resident artist at the Elbphiharmonie Hamburg and the Wiener Konzerthaus.
---
YANN ROBIN
In parallel to pursuing jazz studies at the CNR in Marseille, Yann Robin studied composition with Georges Bœuf then joined the class of Frédéric Durieux at the Conservatory of Paris (CNSMDP), studying analysis with Michaël Levinas before taking the Cursus Computer Science course at IRCAM. During these formative years his meeting with Jonathan Harvey would mark him deeply.
His music, powerful and voluminous, where pulsation and rhythm encounter moments of ecstasy, is released with great bouts of energy. By way of contrast, the timbre navigates between purity and impurity. The lure of low abyssal frequencies which he refers as «a world from below» brings him to Inferno, for large orchestra and electronics, and to the exploration of the infrasounds he uses here as an «underground dramaturgy». Since Monumenta, a piece for large orchestra with 95 musicians, he has been developing the concept of «negative harmony», allowing him to conduct mass and texture of great density with high precision and for the whole duration.
In 2009 and 2010, he was a fellow at the French Academy in Rome, the Villa Médicis, where he launched a new contemporary music festival, the Controtempo Festival.
He works in close collaboration with many soloists including Alain Billard, Nicolas Crosse, Éric-Maria Couturier and the Tana Quartet and also with conductors like Susanna Mälkki, Allan Gilbert, Jonathan Nott, Ludovic Morlot, Peter Rundel, and Leo Warynski…
In 2005, he co-founded the Multilateral Ensemble of which he is the artistic director.
His music is published by Editions Jobert.
---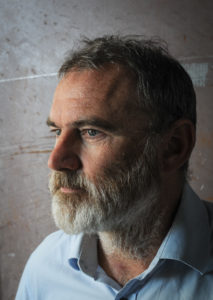 CHRISTIAN SEBILLE
Appointed as director of GMEM, the National Center for Musical Creation in Marseille (France), Christian Sebille is both a structure's manager and a composer.
From 1983 onward, he devoted himself to electroacoustic music which he studied with Jean Schwartz and Philippe Prévost (Ircam), then from 1987 he devoted to mixed music at La Muse en Circuit (Alfortville, France) with Luc Ferrari.
In 1993 he founded Césaré in Reims (France) which became a National Center for Musical Creation in 1993 and whose artistic choices were focused on opening and meeting artistic disciplines and styles. Thus, it promotes research on diversity and new forms for (re)presentation of musical creation.
Christian Sebille's catalog includes more than sixty vocal, instrumental, electroacoustic and mixed works, including a chamber opera (L'alleluiah – George Bataille – state comission), numerous plays dedicated to the theater or choreography (Jean Deloche, Nadège Mac Leay, Emmanuelle Huynh…) and a commission from Limoges' opera for orchestra, choir, percussions, electric guitar and three voices. From 1999 to present, he has made a wide cycle of musical installations (series entitled Miniatures). The eleventh was commissioned by the city of Dijon and was particularly ambitious, as much as the thirteenth designed for the castle of If de Marseille.
Among his collaborations, the one with the spanish artist Francisco Ruiz De Infante gave rise to ten years of exchanges leading to a research on the relationship between plastic and sound space.
Christian Sebille develops electronic instruments that allows him to invest in the field of improvisation both in France and abroad (Alex Grillo, Didier Petit, Sylvain Kassap, Pablo Cueco, Philip Foch, Matt Bourne, Chris Sharkey, Christophe de Bezanac…)
JOHANNES MARIA STAUD
Born in Innsbruck in 1974, the composer Johannes Maria Staud draws much of his inspiration from literature and the visual arts. Reflections on philosophical questions, social processes, and political events also influence his compositions.
He studied musicology and philosophy in Vienna before continuing his compositional studies with Hanspeter Kyburz in Berlin. In 2002 he won the Erste Bank Composition Prize; in 2003 he received the International Rostrum of Composers prize, followed by the Ernst von Siemens Composers' Prize in 2004 and the Schleswig-Holstein Musik Festival's Paul-Hindemith-Prize in 2009. Prestigious commissions followed. In 2004/05 Apeiron was commissioned by the Berlin Philharmonic under Sir Simon Rattle. In 2006 Segue for violoncello and orchestra was commissioned by Heinrich Schiff and the Vienna Philharmonic under Daniel Barenboim for the Salzburg Festival.
Major ensemble works of recent years include Auf die Stimme der weißen Kreide (Specter I-III), which premiered at the Festival Musica in Strasbourg in 2015, and the diptych Par ici – Par là, performed for the first time in full by the Ensemble Intercontemporain at the Acht Brücken festival in Cologne. The violin concerto Oskar (Towards a Brighter Hue II), written for Midori, premiered in 2014 at the Lucerne Festival, as did the opera Die Antilope based on a libretto by Durs Grünbein. Grünbein also provided the textual template for Der Riss durch den Tag (2011) and for the opera Die Weiden, which premiered in 2018 at the Vienna Staatsoper.
The composer's most recent orchestral work, Stromab ("Downstream"), was premiered in 2017 by the Royal Danish Orchestra with its new chief conductor Alexander Vedernikov, with subsequent engagements in Vienna, Cleveland and New York. In 2018 the Vienna Philharmonic premiered Scattered Light without a conductor as part of the Vienna Modern's season opening concert, followed by a guest performance in Berlin.
The 2019/20 season kicks off with the world premiere of Terra pinguis, a work for the Munich Chamber Orchestra. The current season also features new works for the Boulanger Trio (Kasseler Musiktage), a trio for the multi-percussionist Martin Grubinger (Vienna and Cologne), and a miniature for Rudolf Buchbinder on the Diabelli Variations.
Johannes Maria Staud is Professor of Composition at the Mozarteum University in Salzburg since autumn 2018.
---
VOICE COACH :  VALÉRIE PHILIPPIN
Trained in dance, theatre and then in opera singing (gold medal from the Boulogne-Billancourt Conservatoire in 1986), she specialized in contemporary music at the Royaumont Foundation and then at the Centre Acanthes and devoted herself to interpreting the repertoire, writing, composing, improvising, directing and transmitting.
As a soloist and partner of major French and foreign ensembles, Ircam and the Ensemble Intercontemporain, she has created numerous concert and musical theatre works and sung under the direction of conductors such as Pierre-André Valade, Baldur Brönnimann, Susanna Mälkki, Peter Rundel, Jean Deroyer, Philippe Nahon, Jean-Michaël Lavoie...
Artistic director of Singulière Compagnie from 1995 to 2012, she founded the instrumental ensemble Kiosk, which won the Grand Prix de l'Académie Charles Cros in 2011 for the CD-DVD À Portée de Voix on the music of Georges Aperghis.
Since 2019, she is the artistic director of the company Territoires de la Voix in Bordeaux.
Author and composer, she combines sound poetry and contemporary vocality with songs from popular or learned traditions and free improvisation inspired by techniques from dance and theatre. Her compositions have been awarded the Gold Medal of the Alexandria Biennial of Modern Art, the Beaumarchais Foundation and the Coupleux-Lassalle Prize.
In 2022, her collection Kit-Musique was premiered at the Musée Mer Marine in Bordeaux after a six-month composition residency with sixty singing students from the Bordeaux Conservatory, and published by Symétrie.
She has published two other books with Symétrie, La voix soliste contemporaine, repères, technique et répertoire (2017) and Le corps chantant - anatomie et technique fondamentale (2018).
Passionate about pedagogy, she teaches contemporary repertoire, improvisation and musical theatre and is particularly interested in questioning the place of orality in musical practice. She has given workshops and master classes at the École Nationale Supérieure des Arts de la Marionnette, Ircam, the Académie du festival Manifeste, ENOA (European Network of Opera Academies), ARIAM Île-de-France, the higher education centres of Burgundy, Nouvelle-Aquitaine and Pôle sup 93, the Conservatoire à Rayonnement Régional de Paris, the CFMI d'Orsay, the École des Beaux-Arts de Bordeaux... She currently teaches at the TNB-Théâtre national de Bretagne.
 
LECTURER : ELISABETH GUTJAHR
Elisabeth Gutjahr spent her childhood in Bonn and Geneva, two cosmopolitan cities that influenced her development.  After completing her studies in rhythm and music theory in Stuttgart and Cologne, at the age of 26 she was appointed as professor at the Trossingen State Academy of Music in Baden-Württemberg.  She was constantly concerned with the further development of the institution, in the senate, the university council, and from 2006 also as Rektorin, a function to which she was re-elected in 2012.  Moreover she has commitments in the conferences of university chancellors, in the regional music council (governing board), in the educational committee of the German Music Council (deputy chairperson), in the advisory committee on quality at the University of Gutenberg in Mainz, and since 2015 in the Council of the AEC.  She also holds further honorary positions on several boards and advisory committees, for example the Music Friends of Donaueschingen, the Zimmertheater Rottweil 2002 and the regio tv Ravensburg.
She is particularly preoccupied with the opposing poles of score and performance, libretto and stage, whereby she is interested in interdisciplinary processes that link music, theatre, dance, language, film and the fine arts with each other.  From an early age she focused her artistic activity on the creation of text in context with music.  Elisabeth Gutjahr has also organized competitions and festivals of contemporary music  and has worked as a music dramaturge, choreographer and stage director.
Since 1989 she has written several opera libretti and texts for music.  She wrote Gesualdo for the composer Franz Hummel (for the opening of the new opera house in Kaiserslautern), the text for the chamber opera On the Beautiful Blue Danube (voted Best Opera of the Year 1994 by the journal Opernwelt), Beuys (co-production between the Vienna Festival and the Deutsche Oper am Rhein Dusseldorf) and Styx (libretto about Handel and the Orpheus myth for the Handel Festival 1999/2000).
For the composer Tobias P. M. Schneid she wrote Swin swin, a chamber opera that was also produced for television and broadcast in 1998 on ARTE. She wrote the libretto for the opera Eclipse by József Sári (premiered in 2009 at Budapest Opera). In 2015, together with Henry Fourès, she produced the bilingual music radio play Correspondances in the studio La mise en circuit in Paris for the Musica Viva Festival in Strasbourg.
Elisabeth Gutjahr has written several artistic and music-educational articles such as Der Mythos Kreativität (Verlag Wissenschaft und Bildung, Berlin, 1996) as well as essays on music and concert educational theory, music education, improvisation and creative processes.  She has written several radio plays and also the cycle of poems Tractatus logico-poeticus, to which the award-winning audio book Wittgenstein with Klaus Löwitsch refers (commission and cooperation).
---
STRING QUARTETS COACH TANA QUARTET

Hailed as "impeccable players" (The Guardian), the Tana Quartet approaches music of different eras and aesthetics with equal intensity, creating a new tradition that links past and future. Tana has appeared at prestigious festivals and concert series worldwide, including Philharmonie de Paris, Barcelona's Palau de la Musica, Vienna's Konzerthaus, Villa Medicis in Rome, Darmstadt, and Wigmore Hall. The quartet has been honored with numerous awards such as the Union of Belgian Composers' Fuga Prize, an Octaves de la Musique for contemporary music, the Coup de Coeur of the Charles Clos Academy, and an HSBC Award at the Festival d'Aix-en-Provence.
Since its founding in 2010, Tana has been committed to promoting contemporary music in all its diversity and seeking out collaboration with composers. The quartet has consistently acted as a champion of new works, having premiered over 250 pieces by leading composers such as Ivan Fedele, Philippe Hurel, and Hèctor Parra; they have been crucial advocates for the saturist movement, working closely with Franck Bedrossian, Raphaël Cendo, and Yann Robin, whose works are featured on their album Shadows. The quartet has released thirteen albums, including Seven, which comprises Philip Glass's complete works for string quartet and was recognized by Classica magazine as a "best album of 2018"; and most recently, Bleu Ébène, featuring the complete string quartets of David Achenberg.
Tana's devotion to collaboration extends to research, including partnerships with IRCAM Paris, Grame Lyon, GMEM Marseille, ArtZoyd, and Centre Henri Pousseur. The quartet co-designed hybrid electroacoustic instruments in collaboration with composer Juan Gonzalo Arroyo, a groundbreaking contribution to electronic music. Their album Volts, featuring new works for these instruments, was acclaimed as marking "a landmark in the history of the quartet genre" (classiquenews.com).
Dedicated to education, the Tana Quartet is regularly invited to give masterclasses at institutions such as the Conservatoire National Supérieur de Paris, University of California Berkeley, and Shanghai Conservatory. In 2018 they co-founded ARCO, an annual contemporary music academy for young composers and performers, in partnership with the Salzburg Mozarteum, GMEM, Ensemble Multilatérale and Les Métaboles.
Tana believes in extending and equalizing the reach of the arts. The quartet has designed two outreach programs to deliver engaging musical experiences to new audiences: Music Far and Wide brings the quartet into atypical venues, from supermarkets to hospitals; and One-Day Orchestra gives participants of all ages the opportunity to immerse themselves in the creative process.
The Tana Quartet is composed of founding violinist Antoine Maisonhaute, violinist Ivan Lebrun, violist Julie Michael, and cellist Jeanne Maisonhaute.